The first concert ever given by Tangerine Dream was in January 1968 in the Technical University of Berlin.
One of the first official line-ups was: Volker Hombach (saxophone, flute, violin), Lanse Hapshash (drums), Kurt Herkenberg (bass) and Edgar Froese (guitar).
In September 1969 the band had their first performance at a larger event at the Internationale Essener Songtage. The 5-days festival is now considered the "hour of birth" of original German rock music and it featured a heterogeneous program of panel discussions, exhibitions, performances and the finest underground musicians - both German and American. Almost a year before Woodstock, it was the biggest music festival that Europe had ever seen. Tangerine Dream performed alongside musicians like Amon Düül, Guru Guru, The Fugs and Frank Zappa.
That same year, Swiss avant-garde composer Thomas Kessler, a former student of Karl-Heinz Stockhausen, founded the Beat Studio in a school basement in the Pfalzburger Strasse and later at Halensee-Elementary School. Bands like Tangerine Dream, Ash Ra Tempel and Agitation Free rehearsed at the studio and were consequently labeled as founders of the so called Berlin School genre in the 1970s.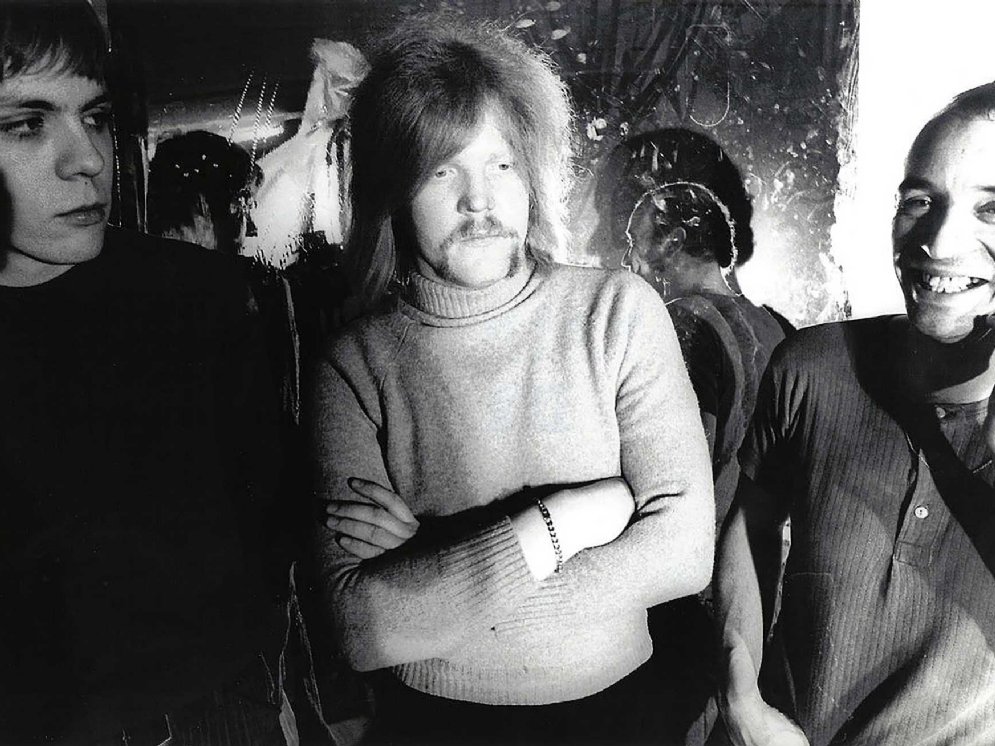 In late 1969, Edgar met the drummer Klaus Schulze, who just had left his band Psy Free. They found a musical partner in Conrad Schnitzler, a former student of Joseph Beuys. Conrad was likewise on a rather unorthodox journey into fine art, and he created sounds with all sorts of tools. Klaus recalls a rather strange concert experience from the same year. "One day we played with Tangerine Dream at a festival in some castle or other. It lasted the entire weekend, and we visited Guru Guru who lived somewhere near there. Well, these guys dropped some LSD into our tea, right before the gig! Geez... That was a gig! Conny Schnitzler had a violin with a pickup which he just held in front of the speaker, and it just screamed the whole time. Edgar told us later that he thought the guitar neck was 10 meters long and he couldn't reach it. And me with my drums; I hit them hard but the sound seemed to take an age to come back to me, sort of like half a minute later. Just for a brief moment, in one of those brighter moments you have on such trips, I saw a guy in the front row, he was 10 meters away from me for sure but I thought he was standing right in front of me, and he just said: "Man, these guys are kaputt."
Later that year, the new line-up recorded a session in a private studio in Berlin-Kreuzberg. The material was not originally intended for release. For some unknown reason, the session tape found its way onto the desk of producer and Hansa Studios owner Peter Meisel. To the band's surprise, Ohr Records, founded by Meisel and Ralf-Ulrich Kaiser, offered them a recording contract. Electronic Meditation was released in 1970 with some additional guitar and organ parts post-recorded by Edgar.
In 1970 Klaus Schulze and Conrad Schnitzler left the band. Later Klaus formed Ash Ra Tempel together with Manuel Goettsching and Hartmut Enke and began his solo career in 1971. Conrad formed the bands Kluster and Eruption. In the same year, Christopher Franke, the drummer from the band Agitation Free joined Tangerine Dream. Just like Edgar, he was influenced by composers such as John Cage and Iannis Xenakis. Christopher Franke: "Edgar and I understood each other very well from the beginning. He and I were very interested in working together because both of us wanted to get away from written music. We wanted to make long pieces of music and improvise… When I decided to play with Edgar, I waved my education goodbye. From then on, I must say, I worked as a professional musician. I was about seventeen and my parents had to sign my first record contract. …Edgar struck me as a serious thinker, into playing regular concerts. So we just improvised, and we liked each other's ideas."
The new trio was completed by organist Steve Schroyder. Tangerine Dream gave one of their most unusual concerts in October 1970 in the Austrian city of Kapfenberg, where they played six pinball machines kitted out with microphones and plugged in to amplifiers.
The line-up Froese, Franke, Schroyder recorded the LP Alpha Centauri at Dierks Studios in Stommeln near Cologne in 1971. Apart from the three regular musicians, Udo Dennebourg played flute and Roland Paulyck synthesizer. Alpha Centauri was inspired by the various works of Gyoergy Ligeti. At the time the term 'cosmic' emerged in connection with their music, a term which would later become the synonym for a whole genre known as Cosmic Music or Kosmische Musik.
Steve Schroyder's sudden departure in 1971 made way for his replacement Peter Baumann in the band. Peter began his musical career in 1968 as an organist, and with this addition, the first solid line-up was formed. It would exist for approximately six years. Edgar later mentioned that Tangerine Dream probably developed some of their strongest projects during this period. In June 1971, the composer and pianist Friedrich Gulda invited Tangerine Dream to play alongside Pink Floyd at the Ossiach World Music Festival in Austria where they performed the Oscillator Planet Concert.
On August 30th, Ohr Records released Tangerine Dream's very first single, Ultima Thule, which had rock sounds including guitar riffs and heavy drums combined with the sound of Edgar's newly acquired Mellotron.
After the radical decision to sell all of their conventional instruments, Tangerine Dream started from scratch with small devices like, for example, a sine-wave generator, and they began to develop new experimental sounds. Their tonal signals were in a higher registered than that of a violin, and deeper than a bass. It wasn't intended to sound pleasant and nothing was planned. Whilst on the first two albums Tangerine Dream used conventional instruments and electronic effects, they now used a synthesizer, which appeared extensively for the first time on the 1972 album Zeit. As well as Edgar, Christopher and Peter, Florian Fricke of Popol Vuh played synthesizer, Steve Schroyder reappeared on the organ, as well as four other guest musicians playing cellos. The long track style which had begun on Alpha Centauri continued with Zeit.
However, some of the concerts in the early years proved rather problematic for the band. In October 1972, Tangerine Dream played the shortest concert of their career. It lasted only 15 minutes. The line-up of Froese, Franke, Baumann performed in Bayreuth, known for its Richard Wagner festivals. Booked as a support act for a rock band, they had just begun experimenting, as cans of juice and fruit began to land on the stage. They'd only played a quarter-of-an-hour, but Tangerine Dream had to leave the stage. The promoter was unwilling to pay and called the police. A concert in February 1973 in the Theatre 'Parisien l'Ouest' in Paris, performing alongside Ashra Tempel and Klaus Schulze, was completely sold out. Due to overcrowding in the hall the fire brigade tried to stop the concert, but Tangerine Dream decided to perform nevertheless – until someone from the audience threw a huge plastic bag filled with jam which landed on Edgar´s equipment, and a large portion of the electronics was severely damaged by the sticky mess as it dripped down over the knobs and faders, seeping through keys.
Atem, the fourth LP was recorded at Dieter Dierks' studio, as were the two previous albums, and it was released in 1973. It found wider acceptance in Britain, due to the assistance of John Peel, the BBC Radio DJ who had selected it as his "record of the year" on his BBC playlist. This caught the attention of Richard Branson, founder of Virgin Records, who subsequently signed Tangerine Dream in December 1973.